PLEASE NOTE that the following information was posted before the pandemic.
Contact the church office with questions about our current COVID-safe church scheduling and practices.
Worship is central to who we are and what we are about.
Each worship service experience includes time of reflection and prayer, Scripture readings, a powerful message, and singing.  Our music is a blend of traditional Wesleyan hymns and contemporary praise songs. We praise God and spend time in awe.  On the first Sunday of the month we gather at our open Communion table, where all are welcome. We are challenged and renewed.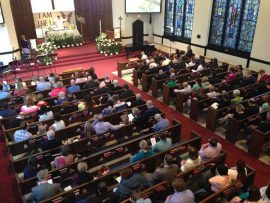 Sanctuary Worship | 9:30am  Our later service in the main sanctuary has a variety of elements to engage the congregation. The organ, as well as a praise band, contribute to this service, which is led by a group of dedicated singers of all generations.  A stimulating mix of contemporary Christian songs, traditional hymns, and special music support the worship.  This service also incorporates full media, utilizing videos and projection screens. Together we lift our voices and our spirits.
Family Sunday  On the first Sunday of every month, the children remain in the worship service with their families. This is a great way for children to learn how we worship and to serve as candle lighters and to assist the ushers.
Holy Communion  In the United Methodist Church, we celebrate communion on the first Sunday of the month with an open table, to which all God's children are invited! Gluten-free wafers and non-alcoholic fruit of the vine are used in order that all persons may participate.
Unity Services at 9:30am Certain Sundays during the year are reserved for a single sanctuary service.
Hospitality Time | 10:30 – 11:00am  Spend time with members of the congregation and guests in the Parlor as you enjoy coffee, tea, fruit juice, and refreshments.
Sunday School for children, middle schoolers, and senior high. Learn more here.

Child Care  Child care is available for infants and toddlers up to 3 years of age from 9:00 – 11:00am.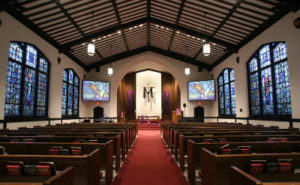 Contact us at
First UMC Park Ridge
418 W. Touhy Avenue
Park Ridge, IL 60068
847-825-3144
Email: office@parkridgeumc.org