EXODUS REFUGEE WELCOME TO AMERICA PACK
We are filling the house!
August 17 to September 17
Members: In partnership with Exodus World Service, FUMC's Outreach Team has challenged the entire church to provide kitchen, bath, bedroom, cleaning items, food items and other essential supplies for a new refugee family or individual. We have  recently learned that Our Welcome to America pack will be going to a Syrian family of 8:  Mother, Father, twin boys age 11, daughter age 13, son age 14, son age 20 and daughter age 21. Our Welcome Pack delivery will take place on Monday, September 25. Contact the Outreach team or Katy Hansen if you can help deliver.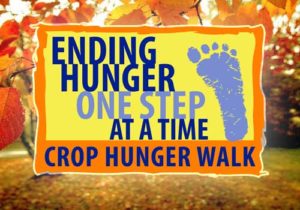 Niles-Park Ridge CROP Hunger Walk is Sunday, October 15
Messiah Lutheran Church at 1605 Vernon Avenue, Park Ridge, will host this year's edition of the Niles-Park Ridge Crop Hunger Walk, and it's happening on Sunday, October 15 with a rally at 1:30 and step-off at 2:00 pm. Join with walkers from all across the community as we walk a three mile route to raise funds to fight hunger, globally through Church World Service, and locally through our Maine Township Emergency Food Pantry. Our FUMC CROP Walk team is forming, and you can sign up to walk and/or make a donation in support of a walker. Look for more information from your Outreach Ministry in the weeks to come, including the schedule for our restaurant fundraisers! See Ed Hansen or stop by our information table in the parlor after services.
THE MIGHTY METHODIST CHURCH PLAYERS Present
"THE LAST RADIO SHOW"
A TWO ACT COMEDY by Todd Wallinger
Friday October 20 at  7 pm
Saturday October 21 at  7 pm
Sunday October 22  at 1 pm
There is also a UWF luncheon Sunday October 22 before the performance at 11:30 am in Jorgensen Hall at The First United Methodist Church, 418 W Touhy Ave., Park Ridge, IL.
Tickets $10.00 for all performances (Sunday luncheon $15.00)
are available at the church office and before and after church services in the parlor on the Grant Place entrance.
Please join us for laughter and fellowship at this FUN RAISER!
ADULT FAITH FORMATION – SUNDAYS at 8:30am
The discussion group continues to review "On Augustine" by Rowan Williams.  We will be discussing chapters 7 & 8.
Previous chapters do not need to be read to join the discussion.  Please feel free to join us via Zoom. 
Join Zoom Meeting
https://us02web.zoom.us/j/84950999716?pwd=ZUVjc0Y0Nml5NFZ5V2xFSnFnb1RIQT09
For additional information about these, or any First UMC events,
please call our church office at 847-825-3144, or email office@parkridgeumc.org.
OFFICE HOURS:
Monday thru Thursday: 8:30am-2:00pm.
CLOSED Friday