Audio podcasts of Pastor David's weekly sermon may be found at sermons.net.
JULY 2019

A Season for New Expressions of Love and Faith
As I write this article, I confess that I would rather be out on a boat or raft floating on blissful, calm waters, with plenty of sunscreen, cool beverages and friends within reach helping to paddle or simply to float and enjoy the scenery. Someday soon, someday soon! I hope your summer has included days of calm, friendship and fun on the water or elsewhere. We will be here at FUMC to share in the joys summer brings to you and your loved ones. Back to business…
As I shared with our Administrative Council on June 6 via email, it was a very good Annual Conference session for those who desire a more inclusive UMC. The annual meeting of the 350+ congregations, 800 clergy & laity took place in Schaumburg from June 2-June 4. (There is a longer story within the Koinonia.) Anne Marie Gerhardt, the Northern Illinois Conference Director of Communications writes "Much of the legislation that passed at Annual Conference reflected the disapproval of the Traditional Plan adopted at February's General Conference Special Session, which emphasizes the current policies around homosexuality in the Book of Discipline for ordination and same-sex marriages while strengthening enforcement of those rules. Approved legislation included suspending payments to the General Administration Fund until changes are made to the structure and practices of General Conference. Also, a call to form a task force to explore a way forward for the NIC, including the possibility of a new Methodist expression, was approved."
As I enter my 5th year of ministry as the appointed pastor to First UMC of Park Ridge, I find myself upon unchartered denominational waters but I am blessed to not be in the boat alone. I meet with a group of 12-15 clergy monthly in a covenant of peer support, idea sharing, and leadership development as it pertains to the new seas we are sailing in all things United Methodist post-special session of the General Conference. As a congregation we are not alone either.
We are part of a vast fleet, growing every day, of congregations who have found strength in not only being reconciling but actively welcoming of all persons and families, seeking justice in a variety of ways, serving in a number of ways, vibrantly sharing the gospel and loving with our whole hearts. The number of congregations declaring themselves to be fully inclusive of lgbtq+ persons grows daily. The number of annual conferences who are defying the traditionalist plan enacted by the General Conference grows weekly.
What is this "new Methodist expression" mentioned above? It is unknown, uncharted and yet to be fully envisioned. Does this cause me to turn back towards the shore from where we have come? No, it does not. There is no going back to the pre-special session United Methodism. We trust God will find us faithful as we set a course for something new, dynamic and wholly blessed. Our Administrative Council and I will keep you fully aware of opportunities for learning, discerning and setting a faithful course. Pray with me that God's Spirit will give us direction, wind for our sails and joy along the way.
Be sure to go to www.umcnic.org for additional news.
See you in church,
Pastor David
---
APRIL 2019
Christ is alive! We are freed!
In such a complex world, how do we formulate beliefs, maintain our beliefs and live our beliefs in Jesus Christ? In such a difficult time in the life our United Methodist denomination, what hope for resurrection exists in the church of Jesus Christ? As we begin to conclude our Lenten journey of liberation, there may be moments when we feel as if we have more chains, more baggage, and more weariness than we could have anticipated in this time. One thing I've learned through our study of the Exodus is that the Promised Land is to be found under our feet and in our hearts at all times. The land is not so much a destination as it is a feeling of freedom and strength we possess within our souls and share by our hands and hope for one another.
In these last weeks of Lent and as we engage Holy Week, I invite you once again to imagine what you need to be freed from in your life. It could be a habit that has become destructive to you or a relationship that is troubled or broken or a myriad of other things: shame, bitterness, unmet expectations, or more. Trust that when you grow in awareness of these things and offer them to God's counsel, there is hope made available to you that Christ Jesus, as your helper, will guide you to be free. The church is here for you, too. As Christians we are companions of one another into the freedom land of our need and life anew. As always, the church stands ready to accept, to pray and to be your strong support. We are blessed to be community – in ministries of love, nurture and healing for one another.
Even as the world spins with so many chaotic turns, and the United Methodist Church awaits decision making about its future, there is no time like the present to live into the promise of Christ's resurrection. The world and the church need believers to believe out loud: "my chains are off, the tomb is empty, Christ is alive and I am freed!" Celebrate the promised land of new life is in sight!
See you in church,
Pastor David
---
MARCH 2019

Our Heart's Condition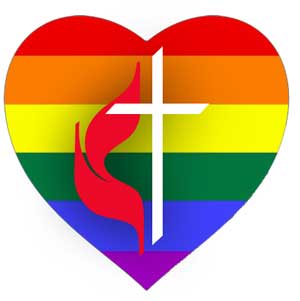 Excerpts from "The Heart of the Matter" based on Jeremiah 17:5-10, Luke 6:17-26, as given on Sunday, Feb. 17, 2019
Our confirmation program is in its 11th week. The nine students have explored theology, discipleship, the creeds and United Methodist history. Later today we will look at United Methodist government – ooo, ahh! The confirmands have also studied Methodism's founder John Wesley. One of John's best and shorter sermons is entitled "The Catholic Spirit" with a small "c" meaning "universal." Wesley makes it clear since its founding, the heart of the matter has been our believing together in the universal love of God in Jesus Christ that makes us one.
Wesley admits that if we cannot think alike or worship alike surely we can love alike and this should be the work of the church. Wesley says "I do not ask someone else to be of my church, to agree with me about forms of church government or the manner in which the sacraments should be administered. These things are important, but not fundamental. "My only question for now is this, "Is your heart true to my heart, as mine is to yours?" What is meant by this question? It implies essentially and above all: do you "love the Lord your God with all your heart, mind and strength" and "your neighbor as yourself" and "do you show this love by your actions?" If these questions are answered positively, said Wesley then "your heart is true to my heart, as mine is to yours. Give me your hand."
The text from Luke's gospel sounds a lot like Jesus' Sermon on the Mount from Matthew's gospel. But in Luke's version Jesus is the great doctor without borders who enters into the middle of the people, on a level ground and speaks to them face to face as most of us would want our physicians to do. "What's the diagnosis, Doc, tell me the good and the bad in a way I can understand." and Jesus does just that. Jesus is aware that, spiritually speaking, the human heart is in danger if there are obstacles within it that don't allow it to participate in God's work. It is coagulation of a spiritual kind. Woe to us when arrogance obstructs the artery. Woe to us when selfishness clogs the veins. Woe to us when missed or ignored opportunities for generosity cause valves made to open to close tightly. Woe to those who know what God requires and fail to do it.
In Jesus, God has offered a prescription for better spiritual heart-health. While the "woes" are indeed tough and uncompromising, it's "love of God" and "love of neighbor" which is a two part prescriptive plan Jesus provides but it is a plan that is ours to employ. It is the action of God's grace to cause awareness in us to build – such that our craving for God's love becomes our daily diet. To structure our hearts upon the example of Jesus becomes the way we want to live. This is by God's grace, too.
While God's love works within us as the body of Christ to provide unity and strength so God's love moves us outwardly and energetically to do the work of Christ. By this love, as individuals and as church together, we are encouraged to become co-partners of God's divine blessing WITH the hungry and the filled, with the happy and the sad, with the impoverished and the wealthy – in one unified whole – for a more just and generous way of life.
Today, we confess our collective heart – as congregation and in particular as a denomination – isn't always in proper condition. Already, there is seismic denominational change anticipated in St. Louis with the special session of The General Conference of The United Methodist Church less than one week away. The question at the heart of the conference: how will the United Methodist Church change? Will it become as inclusive as the kingdom of God we seek to embody or will it continue in its discrimination toward those who are lgbtq, allies and reconciling congregations such as ours?
As pastor of this fully welcoming and inclusive reconciling congregation, the third one that I have served through six general conferences, I can't help but wonder in the church's quest for unity how it will be maintained at the cost of more harm inflicted on the hearts of lgbtq persons not just in our local Northern Illinois area but around the world, too? I seek your wisdom and prayers as I listen to the Spirit's leading and the beating of our church's heart.
Thank you to the members and leaders of our church who have joined together in the January discussions we had about the special session. The discussions have been informative, passionate, honest and not without confusion as to the future of our denomination…what our General Conference will or won't do will affect the future of millions of Americans and people around the world who call the UMC our spiritual home.
What does this global gathering mean for us as a congregation here in our portion of suburban Chicago? It is yet to be fully determined. As with our heart health, awareness is key and knowledge is power. Whatever may transpire in St. Louis I am assured that we as church will seek to engage the decisions and denomination with our vision and our mission of what we believe God has called us to be as a community of faith…to live its blessings without shame and without fear, to move forward with greater trust in Jesus Christ.
The condition of the church's heart has and always will be measured in love; its health will be defined by how well it acts in love. In just a few months, we will confirm our confirmation students. They are inquisitive, energetic, intelligent, gifted 7th and 8th graders. How are their hearts? What are their hopes? Pray that we might help them strengthen their commitment to the church of Jesus Christ. Pray with them in faithfulness to your own heart and love for the church. Pray for them as you pray for the United Methodist Church and its future.
See you in church,
Pastor David
---
January 2019
I resolved to get my newsletter articles completed on time…



It didn't happen.
I resolved to schedule some dental appointments in early January. It didn't happen.
I resolved to plan a nice vacation for the week after Christmas. It didn't happen.
I'm not ending 2018 as I had planned. I wonder if I will begin January more resolute in my resolution-making? God being my helper, I will try!
It is somewhat of a popular tradition to make New Year's resolutions. Some of those resolutions are light impact resolutions such as "I'll be better organized." "I'll be on time." "I won't be so grouchy." Other resolutions are, well, carry more "weight": "I will lose 10 pounds. I will exercise more. I will walk 1,000 extra steps each week."
I wonder about the resolutions we could make that have a broader impact on the world than the ones focusing on temperament or waistline. The United Methodist Church publishes its Book of Resolutions (BOR) every four years immediately after the quadrennial event known as the General Conference (a 10 day global meeting of delegates both laity and clergy from churches around the world and highest decision-making body of our denomination). The BOR offers United Methodists information on hundreds of position statements on hundreds of social issues such as accessibility in churches, campaign finance reform, ethical investing, even East Turkistan Self-Determination and Independence and a whole lot of others. Do these resolutions lead to practices of faith? Can they?
Often times the practice of faith by one United Methodist member or congregation can lead to the creation of a resolution to be offered, discussed, discerned and voted upon by the entire denomination. "We resolve…" and then action steps are then approved and listed for the whole church to follow in its best efforts. By the resolution and with the guidance of the Holy Spirit, we then speak of our statement of faith and live it out and into the world!
With so many major issues of international, national and local impact before us as a country, our congregation's heart has been open wide to embrace homelessness with The Night Ministry, children in need with ChildServ, sustainable & local agriculture with the Winters Farmers Market (Jan.6), hunger with Heifer International and New Hope Community Food Pantry, refugees with Exodus World Service and several others. Which area of need will you resolve to involve yourself in – as a practice of your faith and as a member/friend of FUMC – in the New Year? What new area of ministry can we discover in 2019 that needs our congregation's voice and presence?
Let's resolve to commit ourselves in the generosity of our time, talent and financial resources in 2019 in much of the same way we did in 2018. 2018 was a great year of interest, involvement and participation in ministries of mission and outreach. Let's resolve to be more invitational, too, with our friends and neighbors to our services of worship on Sunday mornings and events throughout the New Year. Many good things are happening at FUMC. Many good people are participating in a variety of ways. Let's resolve to keep it up in 2019 – with God has our able helper – we can make it happen!
Blessings for the New Year 2019!
See you in church,
Pastor David