From many missions, one whole.

At First UMC, we seek to be faithful to where God is leading us. We understand that to be a constantly evolving mission, but we know the five pathways by which we will be engaged in fruitful ministry are radical hospitality, passionate worship, intentional faith development, risk-taking mission and service, and extravagant generosity.
Each of these ministry pathways is fueled by our church spirit of nurturing one another, welcoming all, empowering the team, and serving others.  Our structures, committees, teams, and groups are designed to support this life system, and our annual Ministries Action Plan sets goals and objectives towards which we all may strive.
Our ministries are:
In-person worship every Sunday at 9:30 am. Each worship service experience includes time of reflection and prayer, Scripture readings, a powerful message, and singing.  Our music is a blend of traditional Wesleyan hymns and contemporary praise songs. During the COVID pandemic, mask wearing and social distancing in the sanctuary are mandatory.
Spiritual growth educational programs for for children, youth, and adults.
Outreach is our faith in action, living out Christ's love beyond our church walls. This ministry expresses our love and concern through focused action consistent with United Methodist Social Principles, reaching out in God's love to those in need.
We believe that God desires wholeness for us all,  an integration of faith and health: body, mind, and spirit.  We encourage an understanding and care for human beings in light of their relationship to God, themselves, their families and the society in which they live.
A community seeking to know God and to experience freedom as whole persons through Jesus Christ, developing a creative supportive fellowship while expanding concepts of mission through participation in the global ministries of the church.
• All Means All: LGBTQ Inclusion
At First UMC, we welcome all in a spirit of radical hospitality. Our ministry invites all to participate fully in the life of our church regardless of age, race, ethnic background, sexual orientation, gender identity, physical or mental condition, marital status, family situation, or economic standing.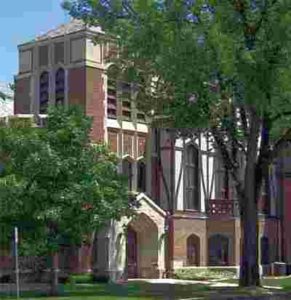 Contact us!
First UMC Park Ridge
418 W. Touhy Avenue
Park Ridge, IL 60068
Phone: 847-825-3144
Office Hours:
8:30AM to 2:00PM
Monday thru Friday
Email:
office@parkridgeumc.org
First UMC Flickr